Our Sweet Story
THE JOURNEY OF PURE SUGAR INC.
Established in 2017 by acclaimed pastry chef Michael Guasta, Pure Sugar Inc. has quickly become a local favorite for custom wedding, mitzvah, and special occasion cakes and sweet treats. With a keen eye for detail and a passion for creating exquisite desserts, Chef Michael expertly crafts each cake to suit your unique taste and style. Conveniently located in Amityville, he is thrilled to deliver his delectable creations from the heart of Long Island to the Hamptons, Montauk, and all the way into bustling Manhattan. He takes pride in bringing joy and delight to every celebration with his artful and delectable creations. Join him on this delicious journey as he continues to spread sweetness far and wide!
Pure Sugar Inc. takes pride in collaborating exclusively with NYIT de Seversky Mansion, a premier wedding and event venue nestled on a breathtaking grand estate in Glen Head, NY. This partnership ensures that our creations perfectly complement the luxurious ambiance of this distinguished site. Join us on this delicious journey as we continue to spread sweetness far and wide!

Michael Guasta
MEET THE OWNER
Meet the creative force behind Pure Sugar Inc, Michael Guasta! With over a decade of experience crafting delightful desserts, Michael's passion for the art of pastry is evident in every bite. As a proud graduate of the Culinary Academy of Long Island, he has honed his skills to perfection, working in upscale bakeries, hotels, country clubs, and restaurants and, more recently, as the CEO of Pure Sugar. Renowned for his boundless creativity and unique artistic designs, Michael continues to push the boundaries of what's possible in the world of sweets. Experience the magic of his creations, and let him bring a touch of sweetness to your special occasions!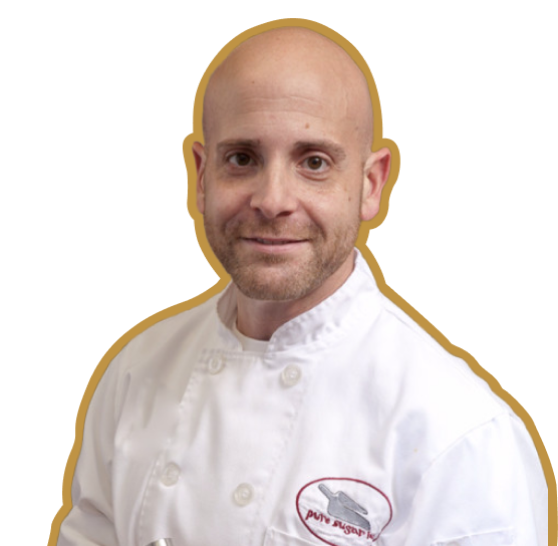 Custom Cakes
BESPOKE DESIGNS FOR EVERY OCCASION
Dive into the world of Pure Sugar's custom cakes and sweets, where each masterpiece is a testament to Michael Guasta's exceptional artistry and skill. Employing techniques such as hand-painting, gold leaf, and metallic finishes, he crafts one-of-a-kind confections that are as visually stunning as they are delicious. His seasonal creations showcase the freshest ingredients at their peak, ensuring every bite celebrates flavor and texture. 
Chef Guasta never compromises on quality; all treats are made from scratch using fresh ingredients, with no room for frozen substitutes. Indulge in the extraordinary and let Pure Sugar's custom cakes and sweets elevate your special moments to new heights of culinary delight.
Custom Hours Only - No Walk-ins Available
Tuesday – Saturday: 11AM – 4PM

Testimonials
HEAR FROM OUR DELIGHTED CUSTOMERS
Michael is a great baker. He will do anything and make anything. He made my daughters 30th birthday cake which came out beautiful as well as delicious. Thank you again Michael
Lynn Baum
Wow!! What can I say? I met Michael last week through my neighbor John. I got a bag of the "Snickerdoodle Biscotti" and boy oh boy are they amazing and delicious!! They were fresh and very, very good! Can't wait for all the chaos with the virus to blow over so I can go to the shop and buy more goodies! Thanks Michael! 😋😋😋👍👍👍 …
Maritza Mojica
I used Pure Sugar for a cake I needed last minute. Not only were they able to accommodate me, they blew my mind away with the cake. Everyone was so amazed by the details and the flavor. I would highly recommend them for any baking needs. They made a "Redbull" can cake for my bosses birthday, it had every single detail that a redbull can would have. Big thank you to Mike & Lexi for making this possible and creating a phenomenal cake.
Sydney Hain
Mike was amazing and the cake even better. He added his own creative ideas that took the cake I asked for to a completely different level. Not only did the cake look amazing but the taste was out of this world and expressed by many of my guests at the event and the day following.
Misty Dickason
My very good friend of let's many years ordered a birthday cake for me yesterday evening – the presentation was to perfection but most of all the tastes of the chocolate and mocha frosting was an explosive taste of deliciousness to the taste buds ! Thank you Jacque and Rich for the cake! Thank you guys for your professional baking abilities which made my surprise so wonderful ! Carolyn
Carolyn DelVecchio
Chef Mike is the best! This was our favorite part of planning our wedding. He had us over to his bake shop and we did a tasting with so many delicious flavors that we couldn't just pick one. He let us pick 3! – 1 for each tier of our wedding cake. He even delivered it to our venue all the way in the city. The cake turned out to be just what we asked for. Our guests were raving the next day about how delicious our cake was. We will definitely be calling Mike for more parties in the
Marisa Pititto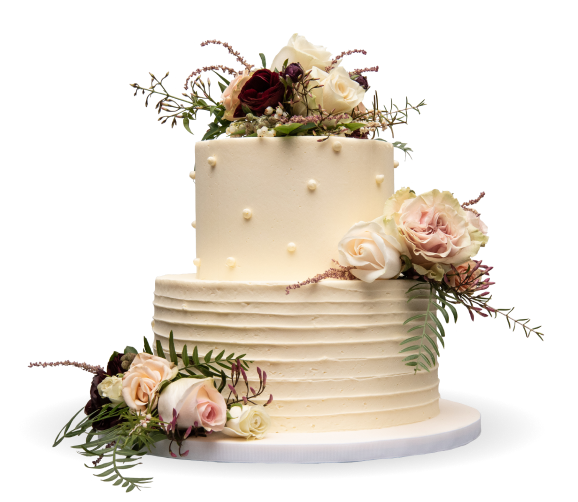 Get In Touch
Connect With Pure Sugar Inc. Today
We'd love to hear from you! Whether you have questions, need assistance with an order, or simply want to share your thoughts on Chef Guasta's scrumptious creations, feel free to reach out to Pure Sugar today!